A Song That Influenced My Life
Sometime during the night of the 14th of April 1963, a group by the name of The Kingston Trio sang a song as part of a show called "Sunday Night At The London Palladium". The song was called "Tom Dooley" and the group consisted of 3 young men playing a banjo and 2 guitars. Their names were Bob Shane, Nick Reynolds and John Stewart.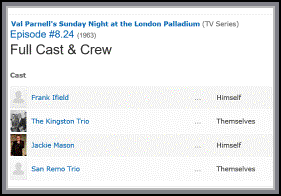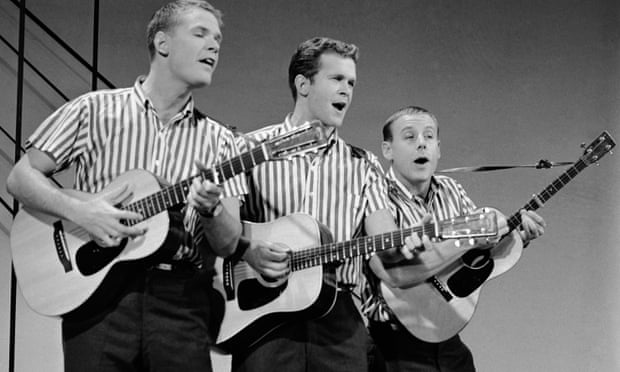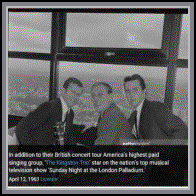 The Original Kingston Trio 1958
I watched them on a small black and white TV set in my family's living room at 60 Main Street, Castlewellan, Co. Down in N.Ireland. The song in actual fact had been a hit in the USA about 5 years previously when Dave Guard, whom John Stewart replaced, was one of the original members with Bob and Nick and sang on the original version.
I was 16 at the time and at that moment hoped I would one day buy a guitar and form and play in a group similar to The Kingston Trio.
Two years later when I was 18 and a student teacher in St. Joseph's Teacher's Training College (also known as The Ranch) on the Stewartstown Road at the top of the Falls Road in Belfast earning my own money via a grant, I purchased my first guitar an EKO, an Italian made steel string acoustic.
Beginning my 2nd year in "The Ranch" I moved out to digs or lodgings in Joe and Marie Mc Callin's home in Ladybrook Park off Finaghy Road North. They both were to become valued friends and advisers during the next 10 years. Joe taught me harmony in exchange for guitar lessons while Marie was always there to offer encouragement and advice.We had many amazing sing-songs there, adding harmony to songs from the 40's, 50's and 60's.
They were lovely people as were their children Ursula, Marie and Michael.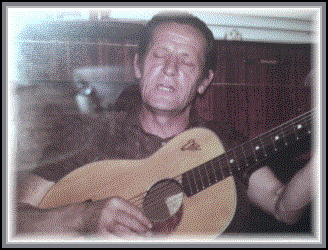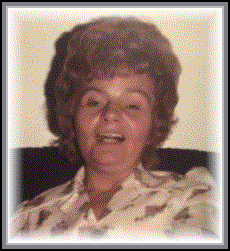 Joe performing with my EKO guitar Marie in full voice
My first years there were spent with John McGinley a fellow student, who also played the guitar but later left to return to Derry and was replaced by Paddy Campbell, a former St Malachy's College boarder, whom I knew quite well. Paddy also played the guitar and we eventually decided like "Peter, Paul and Mary" to form a trio with a female vocalist. Della McErlean from Holywood in Co.Down proved to be a beautiful singer with a very spirited pesonality.We tried unsuccessfully as a trio and eventually, Della having departed, with Pauline Mc Closkey (Marie McCallin's younger sister) and sometimes Joe we played some bookings in St John's GAA club, at some charity functions and tried out in a few talent contests.
While discovering, through Kingston Trio albums, songs by many well known song writers eg. Tom Paxton, John Denver, Bob Dylan, Kris Kristofferson, Leonard Cohen etc. we tended to focus on the contemporary singer/songwriters of the time and it wasn't until we hitched up with Paul Sloan and Brendan Sands, who were more experienced in Irish Traditional music and ballads, that we really broadened our music choices and took our rehearsals seriously.
We became a strong harmony group with a good variety of contemporary and Irish songs and instrumentals.This resulted in being offered a first return engagement in a bar close to Queens University in Belfast.
With this established booking we were able to obtain other bookings in other established folk and ballad venues in Belfast eg The Pieces Of Eight in Belfast and various GAA clubs,
We practised often, developing our instrumentation and harmonies and eventually broke into the pub scene around Belfast performing a great variety of American and Irish songs and instrumentals. We played under the name "Folklore". We also played further afield in pubs and clubs in Tyrone, Derry and Antrim such as Murphy's in Dungiven, Omagh GAA Club, Harveys in Waterfoot etc etc
Paddy and myself played guitars and banjos (Paddy later moved to bass guitar) while Brendan played guitar, mandolin and bodhran. Paul played guitar, tin whistle and bodhran while Pauline also featured on guitar.We all sang melody and harmony with Pauline probably featuring as lead vocalist. Interestingly enough, while we did play quite a number of Kingston Trio songs we never sang "Tom Dooley".
Paddy Campbell, Paul Sloan and myself were fortunate enough at this time to be teaching in the Holy Child Primary School in Andersonstown at the top of the Falls Road where a fellow teacher was Cel Fay, a bass guitarist and also a sound engineer with Billy Mc Burney's "Outlet" record label. Through Cel, who designed our album cover, we were able to produce our first album "First Of Folklore" with a mix of songs chosen by Billy Mc Burney, a mix that was not necessarily a reflection of what was popular at that time in the Irish or American field nor indeed songs we would normally include in our repertoire. The arrangement was that they chose the songs and distributed the record while we could buy it from them cheaply and sell it on at a higher price. This suited us all. My father who at this time owned a little electrical store was proud to be able to sell his son's album in his shop.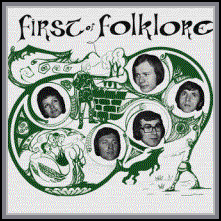 When in 1969 the troubles began in N.Ireland we were forced to restrict our performing to mainly nationalist venues as we were looked upon as a nationalist group playing Irish music. These were dangerous times and we had to be extremely careful about where we played and how safe was the venue.
Sometime in 1973, Tony Heggarty from the group "The Bards" (a USA based group) heard us play in "The Pieces Of Eight" in downtown Belfast and recommended we send a tape to Matt Kane in Washington DC. He owned a bar called Matt Kane's "Little Bit Of Ireland".Tony Heggarty's suggestion and it's outcome had huge implications on my future life.
That tape, recorded in Billy Mc Burney's studio was probably a better selection of songs than was on our LP as they were our choices and were also probably better performances. The songs were probably our best ever recordings.
Paddy Campbell Frank Lennon Pauline Sloan Brendan Sands Paul Sloan
Folklore in Matt Kane's 1974
Anyway it won over Matt Kane who booked us for 6 weeks of the summer of 1974. Matt was not only a generous bar owner as regards paying us for performing but also paid off our hotel bill at the end of our contract.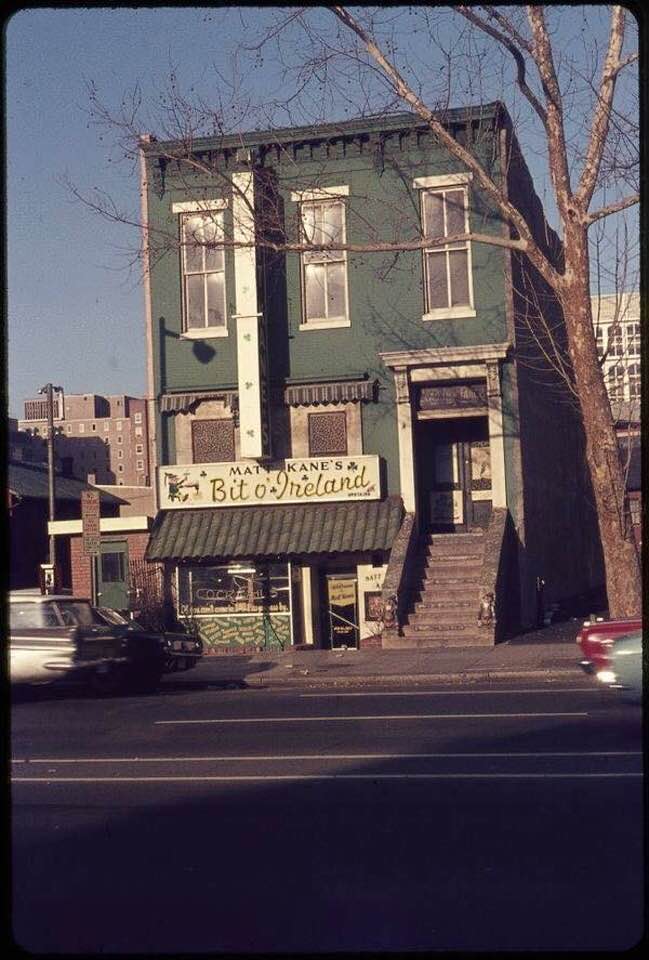 Matt Kane's "Bit o'Ireland" in DC
Over the course of the six weeks we were to make many friends in Matt Kanes who were to remain so to this day, Cheryl O Grady Czapp, Jim and Wynne Cummings, Betsy Keating, etc
Towards the end of our six week engagement in Matt Kane's I was informed by Brendan during a break in our performance that someone I knew was in the bar downstairs.Walking down the stairs and looking over the bannister I could see the faces of Paddy Rooney and Desi McGreevy from my home town of Castlewellan.
I also noticed the tanned and beautiful face of a girl looking up with long blonde hair and a lovely smile. Her name was Sharon Caldwell. With them was Paddy's wife Sue with Patricia and Eileen Manley.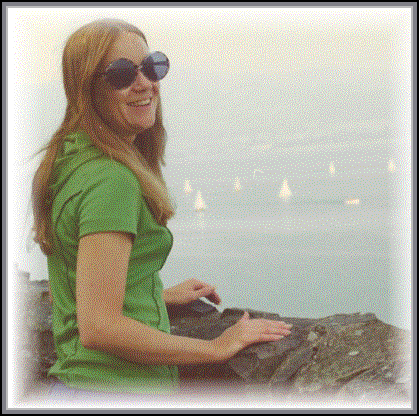 Sharon

Paddy Campbell Frank Lennon Pauline Sloan Peter Farrell Paul Sloan
Folklore in Matt Kane's 1976
To cut a long story short, after 2 years of being together and apart and only seeing each other during holiday times, Sharon and I were married on the 17th July 1976 in Washington DC while Folklore were again performing in Matt Kane's. Peter Farrell replaced Brendan Sands in the line up because of work committments. Over those intervening years I got to know Sharon's family and she got to know mine.
Sharon and I chose to live in Ireland. The group stayed together throughout those 2 turbulent years but shortly after Sharon and I moved to Belfast the group disbanded and we all went our own separate ways. My old friend Fr. Michael Murray who married Sharon and I in DC was a great support to us during these times in Belfast. Our first home was a rented apartment and then the vacant managers house behind a bombed out hotel on the Antrim Road in Belfast.
We had a baby boy, Kevin born on the 3rd of September 1977 and decided to move to the safety of Dublin in the south of Ireland where I followed Paddy Campbell into a teaching job in St. Joseph's School for Deaf Boys in Cabra, Dublin. After two years, because of my guitar playing abilities I was asked to teach music (sound perception) to the deaf boys. As the years passed I also used my knowledge of computers to teach IT to the boys as well. During the first few years Sharon and I, with Kevin our son, moved from rented accomodation in Clonsilla in Dublin to purchasing our own home in Beechdale in Dunboyne Co.Meath.
On the 1st December 1980 our daughter Katie was born while I was doing the Course for Teachers of the Deaf.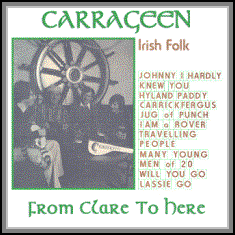 Also during this time Paddy and I joined up with Leo Meyler and Jimmy Loughman in a group named "Carrageen" and played in many of the major folk venues around Dublin eg. The Lower Deck, The Purty Kitchen, Slattery's etc. Over the years Paddy dropped out as did Jimmy. Leo and I teamed up with Jack Raeside to form "The Oul Triangle" and continued playing in many lesser known pub venues and GAA, golf and tennis clubs etc. around the city and neighbouring counties until eventually we folded and went our separate ways.
On the 1st of October 1984 our son Michael was born.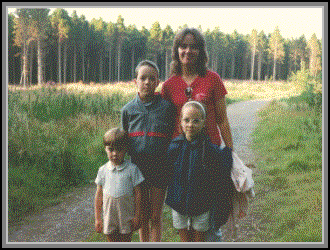 Sharon and I continued working in St.Joseph's School for Deaf Boys in Cabra, Dublin for many more years and in 1994 moved to Chestnut Grove in Dunboyne where we now happily reside.
Now in 2018 having retired many years ago with my family grown up and following their own careers I now introduce the song "Tom Dooley" to my fellow guitarists and musicians. I tell them his story and I tell them mine as described above.
Perhaps my legacy will be, one day 100 years from now a child will enter the room of a great great grandparent and ask for a song to be played. The great great grandparent will pick up a guitar and, with the words " an old grey haired guy with glasses, I think his name was Frank, taught me this song a hundred years ago", will sing a song and that song may be "Tom Dooley".
So much of the above happened to me because I heard the song "Tom Dooley" sung by the Kingston Trio way back on Sunday the 14th April 1963 and ultimately bought a guitar.I'm forever grateful!
PS - The crazy subtext to all of this is that the 2 albums "First Of Folkore" and "Carrageen" are now on Spotify and iTunes and while in the past I only listened to them on scratchy Vinyl 33 records played on cheap and poor sounding record players I can now, 40 years later, hear them on a 1st class sound system, in all their glory, just the way Cel recorded them and after all this time I'm impressed.
____________________________________________________________
"Throughout history, there have been many songs written about the eternal triangle. This next one tells the story of Mister Grayson, a beautiful woman, and a condemned man named Tom Dooley. When the sun rises tomorrow, Tom Dooley must hang.
Chorus
G D7
Hang down your head Tom Dooley, hang down your head and cry
D7 G
Hang down your head Tom Dooley, poor boy you're bound to die
G D7
I met her on a mountain, there I took her life
D7 G
I met her on a mountain and I stabbed her with my knife
Chorus
G D7
This time tomorrow, I reckon where I'll be
D7 G
Down in some lonesome valley, hangin' from a wild oak tree
Chorus
G D7
This time tomorrow, I reckon where I'll be
D7 G
If it hadn't bin for Grayson I'd a bin in Tenn-ess-ee
Chorus twice "